About Straton Industries
Straton Industries is a certified contract manufacturer of molds, tools, dies and stampings. We are ISO 9001:2015 certified, FAA Certified Repair Station, AS9100D and ITAR Registered. Our staff is comprised of dedicated and experienced industry veterans that are ready to execute your custom manufacturing needs and even help design and engineer new projects. Our Engineers and Technicians have the knowledge and experience to make your project a success.
Straton Industries continues to make regular investment in newer, faster and high-capacity machinery. Our current capabilities include 5-Axis precision machining, large diameter turning, vertical turning up to 78″ diameter and more. For a complete list of our capabilities, click on Our Facilities page for more information.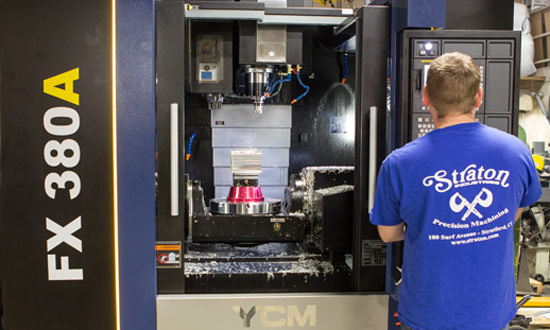 We are a privately held Connecticut company founded in 1961 on the belief that deep engineering knowledge, applied technical experience, and exceptional customer service, are the keys to delivering high-quality custom manufacturing for just about any industry. These principles guide our daily operations, and are jointly held by all Straton Industries employees.
Beyond custom precision manufacturing, Straton Industries is also a Certified FAA Repair Station XTRR859K (FAR 145) for helicopter and fixed wing aircraft components. Our 3 manufacturing facilities are located in Stratford, CT and are just 3 miles away from Sikorsky Memorial Airport. Our proximity to the airport makes us ideal for quick turnaround on landing gear repair.
Our Process
With over 50 years of experience, Straton Industries has served nearly every market and industry by successfully delivering custom manufacturing to meet unique application requirements and the most stringent industry standards. Understanding your needs and specific design challenges is what sets Straton Industries apart from the competition. We work with a wide spectrum of industries aerospace, automotive, consumer, electronic, energy, industrial, medical and military – so we can often suggest a solution, process or material to solve most challenging project requirements. Through continuous improvements, we are committed to on-time delivery and the highest quality products
We welcome and encourage any existing or potential customer to come visit us in person. Please give us a call to schedule a tour. We're proud of where we work and would be happy to show you around.